Indoor LED Displays
Indoor Ultra HD LED Display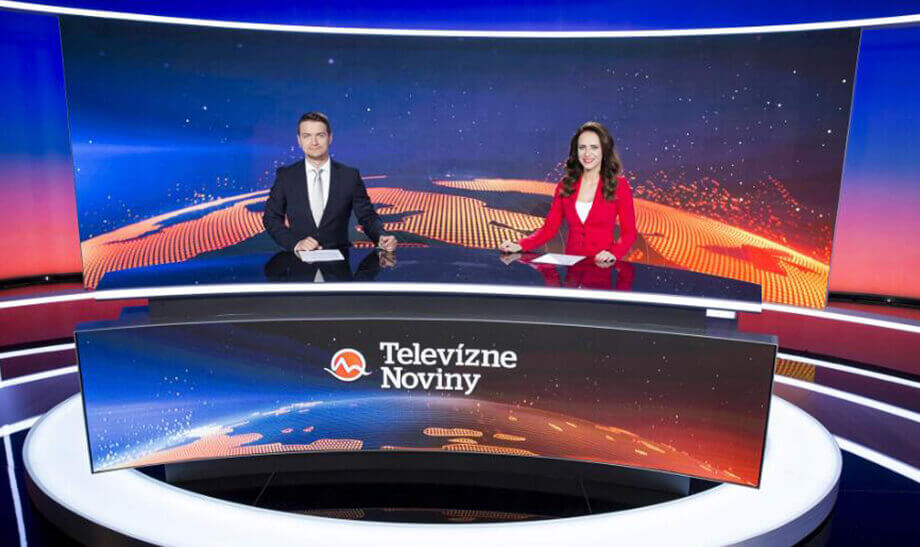 Our high-resolution indoor LED displays are capable of playing UHD 4K video visuals and are best suited to be used at important places such as conference rooms of companies, popular TV Stations for live broadcasting of news or topic debates, retail shops, the best of cinema theatres, airports, exhibitions of different categories and more. Huaxia's LED displays are capable of producing super high-definition image quality and high contrast for the best image clarity along with fast refresh rate for high-speed HD videos. The contrast ratio can go as high as 8000:1. The refresh rate is a staggering 3840 Hz.While these LED displays can be curved in design depending on the application, we also offer flat-screen LED displays that come with similar features. The contrast ratio for these displays come up to 6000:1 and the brightness is up to 1200 nits. The LED UHD displays also come with IP68 and IP54 certification for water resistance. Contact Kreativetec for a good quote for the best Ultra HD LED displays in the UAE.
Indoor HD LED display
If UHD resolutions are not of your preference, then we at Kreativetec also offer indoor LED displays that feature standard HD resolutions. These LED displays can be used on TV stations for live news reports and preview of content, retail stores of different categories, conference rooms in offices, digital class rooms in universities, hotels for showcasing latest offers, showcasing content on the background of stages and more. These displays come with wide viewing angles and users will be able to view content at close viewing distances. These LED displays are fully calibrated for the best of colors to produce crystal clear and detailed images and video content. The brightness of the display goes up to 1200 nits so the content is visible enough for most situations and features a contrast ratio of 6000:1. Users will be able to integrate these devices with a range of other video output products. The indoor LED display features a high refresh rate of 3800 MHz. These displays also come with IP68 and IP54 water resistance. Get in touch with us to get a quote of the best indoor HD LED displays in UAE.
Interactive LED Displays
Our interactive series of LED displays are primarily focused on high-end retail markets, corporate and government projects and are made of polymer nano composites for high durability and lightweight characteristics. These durable displays can be magnetically installed and can be easily assembled or disassembled. The M series displays, users will be able to use the method of splicing to set up displays and create letters or different shapes and sizes according to the need. These displays can be mounted on a ceiling or on walls at different shapes and patterns. With the King Kong series, these displays are more durable and features anti-corrosion, waterproof and dust-proof characteristics. These LED displays are best suited to be used on floors of retail shops or digital playgrounds for children or other events like a digital dance floor and comes at different screen resolutions. Get in touch with Kreativetec for a good quote for the best Interactive LED displays in the UAE.
Indoor Digital LED Digital Posters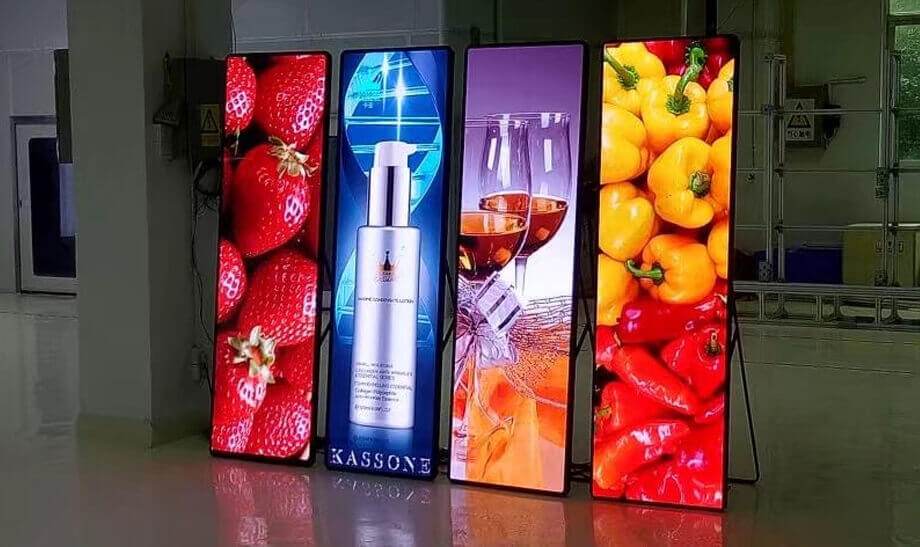 Huaxia's LED digital posters are best suited for promotions at retail stores for better sales turnovers. Thanks to their portable and stylish design, these LED displays are eye-catching and gets the attention of visitors. These LED posters come with a digital media player for these devices can be used for promoting offers and also can be used for showcasing any welcoming videos for visitors. These displays can also work as a visual and virtual catalog for different accessories and products offered by the brand. Users can also use these LED displays as a digital mirror to see how a particular accessory would look on them. This is useful in fashion-based retail stores and showrooms of clothing brands. LED digital poster displays have a brightness of 1200 nits and a high refresh rate of 1920 Mhz. The displays are better suited to be hanged in walls of retail stores, wall-mounted bracket standing and other creative design installations on shopping malls. To get a quote of the best digital LED posters in Dubai, do not hesitate to contact us for reasonable prices.
Outdoor LED Displays
Outdoor advertising LED displays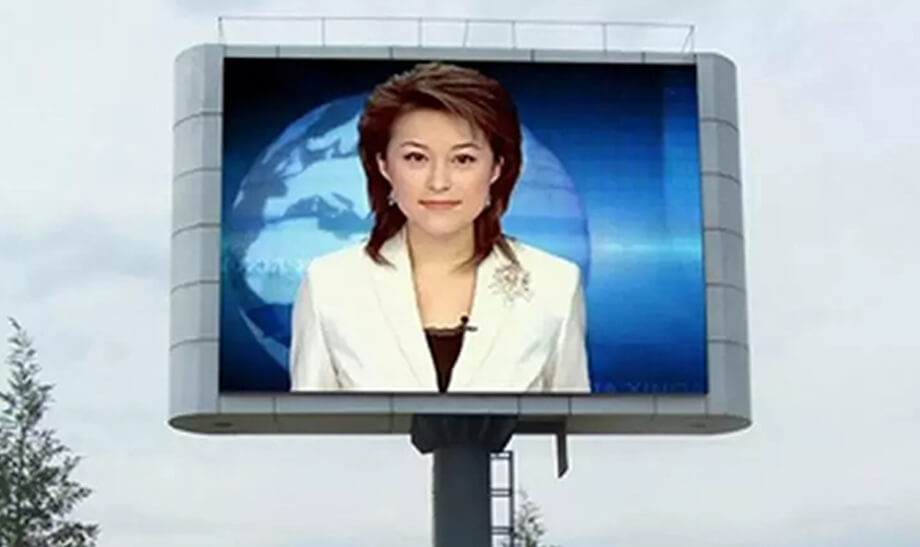 Outdoor advertising displays are the perfect devices to be used as digital billboards in highways and near flyovers. They are waterproof and offer high brightness with high definition image quality. They are ultraviolet proof and features corrosion resistance. The digital LED billboards can be seen used in top of large buildings for promotional purposes as an out-of-home digital advertising campaign. It features high brightness so the content is clearly visible in broad daylight and also features IP65 water resistance certification, ultra-violet proof and can handle high temperatures during summer. This ensures the displays are durable and long lasting in all sorts of extreme weather. Both the LED displays are reliable to work for 24 hours and 365 days without issues. The outdoor LED displays feature low power consumption for energy saving for all situations. The brightness of these displays can reach over 6500 nits and the contrast ratio is rated at 6000:1. For a good quote of the best outdoor LED displays in the UAE, please reach out to us for good offers.
Architectural LED and Outdoor LED mesh displays
We at Kreativetec offer architectural and free form LED displays that can change the looks of a building façade into an important means of digital communication. They can be mounted on large structures such as buildings thanks to its free form LED structure. Architectural LED displays have a max brightness of 7500 nits and are also waterproof and can endure high temperatures to resist corrosion. These displays are reliable and can work 24 hours, 365 days in any weather. Architectural LED displays are easy to install and doesn't require any form of complicated steel constructions.
Outdoor LED mesh are the next generation in outdoor LED display technology using LED mesh and can use a building façade as a great means of a communication medium while not taking away the architectural design of the building. Outdoor LED mesh displays have a brightness of 4500 to 6500 nits, making the content visible on a bright day. They are safe and can resist fire, earthquake and sandstorm. The devices are water-resistant with IP68 and IP65 certification. There is no requirement of cooling for these devices during the summer and doesn't need maintenance. Both the LED outdoor displays are easy to install and doesn't require any form of steel construction for firm installations. Get a quote of the best architectural LED and outdoor LED mesh displays in the UAE.
Renting Outdoor LED Displays
Purchasing Large LED displays used for outdoor events that happens once or twice a year can be very expensive in such a way user prefer to rent these displays for a lower cost. These outdoor LED displays are large in size and are capable of producing crystal clear image quality and brightness. The screens are easily manageable and can be assembled or disassembled easily without any fuss. The outdoor LED displays we provide are a part of Huaxia's 3rd generation magic cube series that features a pixel pitch of 3.91mm, 4.81mm, 5.95mm and 6.25mm for outdoor usage. The cabinet size of the equipment is 500 x 500mm. We at Kreativetec will be able to provide the best outdoor LED displays for rent in the UAE.
LED Fence Displays at Stadiums
LED fence displays are primarily used at sports stadiums and are designed have large viewing distances to showcase high definition images at good quality and are reliable. LED Fence displays have durable characteristics and has a long lifespan between 5 to 10 years. They also feature anti-impact surfaces to resist shocks from sports balls and to protect athletes when they fall onto it during the sports action sequence. Our fence displays comply to UL, CE, RoHS standards and maintenance for these units are easy for its front and rear panel. They are lightweight (about 25kg) and can be easily assembled and installed or dismantled and transported when needed. The brightness of LED fence displays is rated to be up to 6500 nits and the refresh rate of these screens can go up to 1920 Hz. Kreativetec will be able to provide the best LED fence displays in the UAE for sports stadiums for the best price in the market.
Transparent LED displays
Transparent LED displays are the ideal choice for retailers who want to advertise their products with out hiding their store's interior view. The way how transparent LED displays work is that it lets visitors see the visual content and effects that are shown on the glass screen and at the same time being able to see the real background view behind the glass. Our Transparent LED displays are based on Huaxia's patent exclusive high-profile design characteristic that delivers a neat and clear transparent viewing experience for the user, thanks to the non-visible cable and framework management. Almost 90% of its wiring and other materials are hidden. The transparent LED displays can be easily assembled and disassembled and can be easily maintained. They can be customized into different shapes and sizes and users will be able to choose different transparent LED displays with pixel pitches ranging from 3.91mm, 7.8mm, 10.4mm, 16mm and up to 20mm as options. It's a very good solution that is beneficial for retail stores and shopping malls to showcase promotional and branding campaigns more effectively. We at Kreativetec will be able to offer the best high-quality transparent LED displays in the UAE so do contact us for the best quote.