Kreativetec distributes leading brands of Interactive smart displays, INTERACT and IQ Touch in GCC countries, Africa and India. INTERACT is a leading brand in interactive display products that are designed and developed by industry experts. The products from INTERACT are built according to the best technological standards in the market. For schools, universities and offices, INTERACT offers the Interactive Smart Board where information is can be shared in an engaging way among students or business users.
Interactive LED display screens are widely chosen thanks to its low cost, simple to use with added features, intuitive engagement and easy to maintain. The smart whiteboards come in different screen sizes ranging from 55-inch, 65-inch, 75-inch, 86-inch and up to 98-inch. The screens of the smart boards feature great viewing angles with rich colors. Users have a choice of interactive smart boards that run on Android OS, other Linux OS and Windows.
Companies in UAE and other GCC countries that use collaborative touch displays in meeting and conference rooms can make use of the Microsoft Teams, Zoom or any other team collaboration applications where users come together to share data and information. Any drawings or free-hand writings done on the interactive smart screens can be shared with other users. Users will be able to send comments, share files, photos and gif with others and make video calls through Microsoft Teams, Zoom or any other video conferencing apps. The application also lets users install mini-applications for additional functionality.
Benefits of Interactive Smart Screens in Class Rooms and Meeting Rooms
Our smart boards can be mounted on the walls of classrooms and universities.
Interactive LED display screens can replace chalkboards in classrooms of schools and colleges for a cleaner and dust-free environment.
Collaborative touch displays can also replace the dry/erase whiteboards or drawing boards in conference rooms and meeting rooms of offices and large corporate spaces.
Unlike the old ways of communicating information, interactive smart whiteboards for classrooms help in engaging information to a class of students or intuitively training a group of people.
With the integration of a 20-point touchscreen and the availability of different screen sizes, multiple users will be able to use the interactive LED display screens simultaneously.
Our smart boards come in 55, 65, 75, 86 and even 98-inch screen sizes and fits in different situations and environment.
Interactive smart boards are one of the best solutions for interacting with your students in a classroom. Smart whiteboards for business can be used to network with fellow employees in a conference room. The boards feature loads of connectivity options that are crucial in saving important data and information directly to drives and also sharing other computers or portable devices.
At Kreativetec we offer the best interactive smart boards for a business that is suitable for presentations and training environment. Our experts will be able to install and setup the touch displays easily in less time. Get a quote from us for the best interactive smart board prices in the UAE, Oman, Saudi Arabia, Qatar, Bahrain and Kuwait.
Product features at a glance
Digital Whiteboard Apps
Fast and precise, symbols and handwriting recognition, multi-touch operation up to 20 fingers
Our smart displays come preinstalled with the whiteboard apps on both Windows 10 and Android OS. These whiteboards offer different features such as annotations, crop and cut, auto shapes, handwriting recognition and more. Our digital whiteboard application supports up to 20 touchpoints at a time.
Elegant Looks for a Large 4K Screen
Stylish and slim design, slim bezel, 4K resolution at 60Hz refresh rate, screen sizes up to 98-inch
Our digital displays are designed in a stylish form-factor that sets it apart from other displays. We offer different screen sizes starting from 55-inch, 65-inch, 75-inch, 86 and 98-inches with a thin body profile and slim bezel. Our smart displays feature a 4k high resolution that enables sharp and crisp image quality of pictures and videos with 60Hz of native refresh rate. This is essential for both educational and corporate environments to view high-resolution images and videos.
Advanced Touchscreen Technology
Optional capacitive or IR touchscreen, multi-touch capability, low touch response time
Our smart displays feature advanced infra-red touchscreens with a response time of 5ms. Our infra-red panels are made in such a way that it is economical as well as offering the near-performance of a capacitive touchscreen, thanks to the thin gap between the glass and the sensors. The screens support a 20-point touchscreen operation in Windows mode and 10-point touchscreen capability on Android OS.
Dual Boot Functionality
Choice of apps, Instant switching between OS, Optimized applications for a big screen
The smart displays are configured to run on Windows 10 and Android OS. The benefit of having both operating systems is the users will be able to utilize a vast number of applications depending on their requirements. With the numerous programs that exist in the Windows platform, users can get their hands on many applications that are unique for educational or corporate scenarios.
LED Backlight
Longer lifespan, High contrast ratio, High brightness
Our smart displays feature an LED backlight that helps to improve the brightness and the contrast ratio of the screen with low power consumption. The screen is designed to operate up to a lifespan of 60,000 hours.
Extreme Performance
Powerful hardware for both Windows and Android, Inbuilt storage included, High-Capacity RAM
Our interactive smart whiteboards for business and smart whiteboards for classrooms come equipped with powerful Intel processors for smoothly running the Windows 10 operating system and coupled with enough RAM for great multitasking. Android 8 OS is well optimized to run with the quad-core chip present on the Android system for lag-free user experience.
Products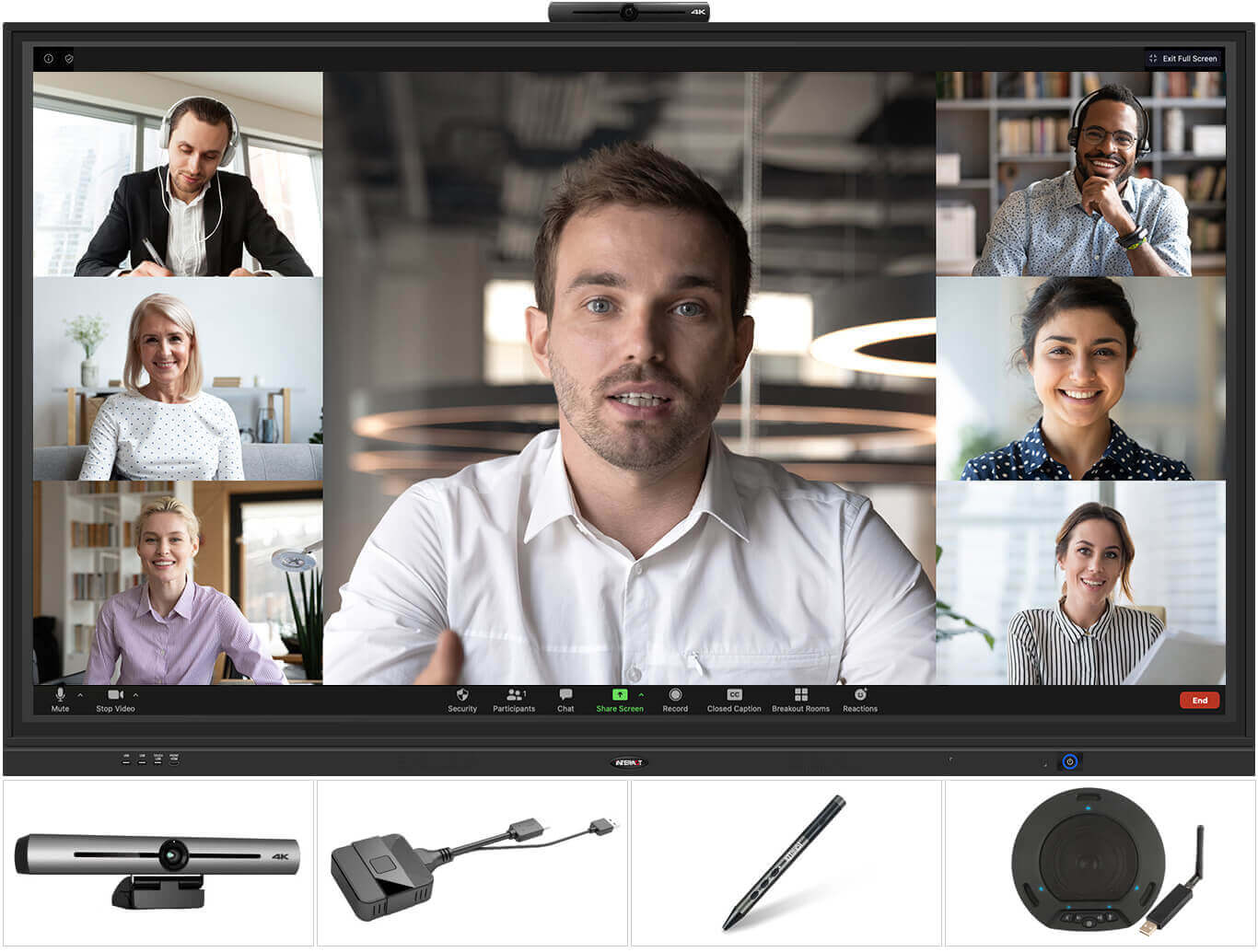 Interact WhizTouch – Advanced video conferencing and work collaboration systems for meeting rooms and class rooms
WhizTouch is an interactive display and video conferencing solution designed for use in offices and classrooms. It features a high-resolution 4K display with a 20-point IR touchscreen panel having a super-fast response time of 5 milliseconds. WhizTouch comes with Dual OS (Android and Windows 10 OS) so the users can benefit from the features of both operating systems and a wide range of Android and Windows applications. Using Android OS allows users to cast their smartphone or laptop displays onto the WhizTouch screen to share content with others. With the Windows OS, users get the benefit of the best collaborative tools in the market along with easy file transfer features. WhizTouch also features an integrated whiteboard application and the capability of capturing screenshots or videos of meetings and other sessions. The WhizTouch display comes with optional accessories such as an advanced 4K camera, wireless dongle for advanced screen sharing, omnidirectional mic, high-end speakers, smart pen and multi-functional stand. The displays are available in size options of 65-inches, 75-inches and 85-inches.
IQTouch C Pro for education and businesses
The IQTouch C Pro is an interactive smart display designed to be used for both educational institutions and business organizations. The screen features an advanced infrared display with fast response time and with 4K resolution. The C Pro has support up to 20 touchpoints. IQTouch C Pro is preinstalled with both Android 8 and Windows 10 OS and is powered by the Intel 8 th generation processors for fast multitasking performance. Students or business users can cast content from their devices to the C Pro with the IQShare Lite dongle. The screen is available in 65-inch, 75-inch and 86-inch sizes.
IQTouch TB 800 Series for schools and colleges
The IQTouch TB 800 Series is an interactive smart display that comes in 65-inch, 75-inch and 86-inch screen sizes with DLED panels. The TB 800 series features 4K screen resolution with a 60Hz refresh rate for the best image quality. The TB 800 series interactive smart displays come with IR display technology with fast response times along with support of 20 touchpoints. TB 800 series are optimized to be used in classrooms of schools, colleges and universities for better interaction between the teacher and students. Easily share content from other devices with the included IQTouch screen mirroring software.